Preparedness to Deal with Disaster Tested by Mock Drill:-
Under the direction of National Disaster Response Force (NDRF) Commandant Manoj Kumar Sharma, district disaster management teams conducted a mock drill (rehearsal) on Tuesday at Hotel The Centrum, Ansal. The purpose of this exercise was to save the lives of the affected people during natural disasters, chemical, biological, radiological, and nuclear disasters, and to check the coordination between all the agencies. The rehearsal was led by Deputy Commandant Anil Kumar Pal. 35 rescue personnel including NDRF's Amit Kumar Singh, ADM Himanshu Gupta, Deputy Commandant Anil Kumar Pal, Team Commander Vinay Kumar, Sub Inspector Jitendra Singh Yadav, and Paras Ram Jakhar were present on the occasion.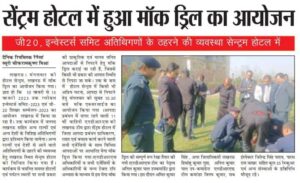 NDRF and State Disaster Management team doing a mock drill at Hotel The Centrum.
Mock drill: chemical attack on Hotel The Centrum, NDRF and CRPF engaged in rescue:-
Suddenly at 12 noon, the officers got a message that there has been a chemical attack at Hotel The Centrum. After this, teams of NDRF and CRPF reached the spot in a hurry. The process of evacuating the injured from the multi-story building and giving them first aid and sending them to the hospital for treatment began. There has been no loss of life. Chemical attack rescue operations in the Chemical, Biological, Radiological, and Nuclear Emergency at Mockdrill at Hotel The Centrum, the venue of the G-20 summit on Tuesday. From 13 to 15 February at Hotel The Centrum where the heads of state and their representatives of various countries are to attend the G-20 summit. At the same time, prominent entrepreneurs and guests will stay here during the Investors Summit from February 10 to 12.