FASHION IN DRIVER'S SEAT:-
'Fashion in Top Gear' showcased an eclectic spread of Khadi couture; a glittering event that also saw a display of the latest models of luxury cars.
The city's glitterati turned out in their fashionable best for 'Fashion in Top Gear' organised by The Times of India and Navbharat Times in association with SRM Star Mercedes-Benz and UP Khadi and Village Industries Board on April 1, 2022, at The Centrum, Lucknow.
Celebrating the best of luxury in both fashion and automobiles, the event was an elaborate showcase that offered all attendees a rare glimpse of the latest car models from Mercedes- Benz and a beautiful mix of fashionable Khadi wear- an alluring collection curated by Lucknow's top designers, including Asma Hussain, Padma Shri recipient Runa Banerjee, the founder of Sewa Chikan; renowned couturier Aditi Jaggi Rastogi and designer Roopika Rastogi of the Charkhatales.
The fashion show sought to promote the use of khadi, a handspun fabric that has a rich historic and cultural significance in India's history.
The fashion show sought to promote the use of khadi, a handspun fabric that has a rich historical and cultural significance in India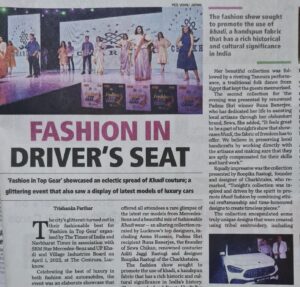 Her beautiful collection was followed by a riveting Tanoura performance, a traditional folk dance from Egypt that kept the guests mesmerised.
The second collection for the evening was presented by renowned Padma Shri winner Runa Banerjee, who has dedicated her life to assisting local artisans through her chikankari brand, Sewa. She added, "It feels great to be a part of tonight's show that showcases khadi, the fabric of freedom has to offer. We believe in preserving local handicrafts by working directly with the artisans and making sure that they are aptly compensated for their skills and hard work."
Equally impressive was the collection presented by Roopika Rastogi, founder, and designer of Charkhtales, who remarked, "Tonight's collection was inspired and driven by the spirit to promote khadi fashion by combining ethical craftsmanship and time-honoured designs to create timeless pieces."
The collection encapsulated some truly unique designs that were created using tribal embroidery.