Fitness Enthusiast Sarvesh Goel:-
Fitness enthusiast Sarvesh Goel has nowadays been advised by doctors to be on rest due to a medical condition but he is itching to be back on track.
"I do a minimum of 30 km at a stretch so it's unfortunate that I cannot ride for the next two months. Else, I keep cycling, and last month when I was in Nepal, I took time out to go on a bicycle ride for a break being close to nature," he says.
Vikas Jain, who is a part of Lucknow Paddlers Club, tells, "We have a group of 4 to7 people who ride for six days a week. Saturday is a cheat day when we savoure samosa, chai, and bun-makkan while Sunday is a rest day. Since it's very hot these days so we prefer riding in Janeshwar Mishra Park as it's greener inside else we go.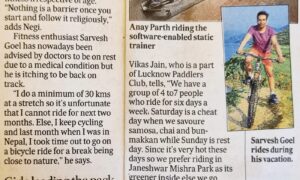 Sarvesh Goel rides during his vacation.