Farewell to G-20 guests with Song and Music:-
The G-20 summit concluded at Hotel The Centrum on Wednesday. On the third and last day, the farewell dinner of the guests was marked by songs and music. Everyone kept watching the Shri Ram marriage dance drama.
More than 150 distinguished guests from G-20 countries, nine friendly countries, and representatives of five international organizations discussed various issues for three days at The Centrum Hotel. A banquet was organized to bid him farewell on Wednesday evening. Along with this Yamunashtakam was presented by the Culture Department.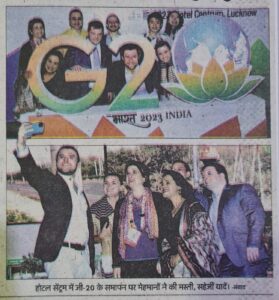 Everyone loved Delhi's famous Kathak artist Naveen Jaffa's 30-minute special show based on the river Yamuna. In this, to save Yamuna from pollution And Lord Krishna was beautifully portrayed. After this, the students of Bhatkhande Sangeet Vishwavidyalaya presented the Shri Ram Vivah dance drama.
In the end, there was a duet of Dukkad i.e. Nagada and Shehnai. Arun Mishra on Dukkad, Shehnai Iftikhar Hussain, and Vishal on Dholak mesmerized everyone listening to it.
Artists performing cultural program at the conclusion of the G-20 Digital Economy Working Group meeting at The Centrum Hotel