Mid Dermacan-2022:-
Wrinkles and unwanted hair on the face due to steroid cream
Long ago, women reach dermatologists with complaints of itching, rash, rashes, and burning sensation on the face. Many are under stress due to unwanted hair on the face. Actually, the cream everyone used to look beautiful had steroids in it. On the second day of 'Mid Dermacan-2022' at The Centrum Hotel, Ansal Golf City, Dr. Amit Madan, the coordinating secretary, told that steroids thin the skin of the face. Pimples, wrinkles, and even freckles happen. Can cause skin cancer.
Dr. Madan also spoke on white spots (leukoderma or vitiligo) during the three-day National Workshop of the Indian Association of Dermatologists, Venereologists, and Leprologists (IADVL). Said, in this the cells that make color are destroyed. The reason can be stress, weakness, or diet. It spreads by not touching. Now the melanocyte culture is injected into the skin with the help of injections to change the color. 30 to 90 percent of patients recover.
Get the treatment of such diseases done by dermatologists: Scientific Secretary Dr. Sumit Gupta said that men may have problems like premature ejaculation, dream defects, low sperm count, itching in the genitals, or problems like leucorrhoea (white water) in women, These are the subjects of 'Venirology'. Dermatologists are venereologists. So the patient should go to a dermatologist.
Dermatologists shared experiences on the second day of 'Mid Dermacan-2022'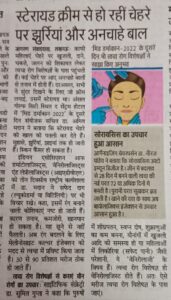 Treatment of psoriasis became easy – Organizing chairperson Dr. Neeraj Pandey told that psoriasis is an auto-immune disease. A change in the gene causes a new layer of skin to form in 72 or more days, which is formed in 28 days. The old layer dries up and falls off. With food medicine, now biologics injection has made treatment easier.