MSME will Give a Big Expansion:-
MSME will give a big expansion to its product abroad. Micro, Small, and Medium Enterprises (MSMEs) in the state are taking their products from local to global. It will get more detail in the future. For this, International MSME Business Conclave was organized by Indian Industries Association (IIA) to explore investment possibilities. , ambassadors and diplomats from 19 countries also showed interest in the MSMEs here. Finance Minister Suresh Khanna also said that Uttar Pradesh is a good place for investment in the whole world, stating that there is a better opportunity for investment in the state.
Finance Minister Suresh Khanna, the chief guest at the conference, which will run till March 25 and 26 at Hotel Centrum, said that the perception of the country has changed in eight years and the state in six years. To promote the industry, the government has implemented a new industrial policy. Today UP ranks second in Ease of Doing Business. With better connectivity, and law and order, UP is the first choice of investors. Soon Jhansi-Bundelkhand Industrial Development Authority is going to start. There are 96 lakh MSMEs working in the state. One District One Product is also getting appreciation in foreign countries. ACM of MSME Amit Mohan described small, medium, and micro industries as the backbone of the economy. Ashok Aggarwal, National President of IIA said that export possibilities are being explored for the products of MSMEs from this conference. Through this, the possibilities of each other's import-export are being seen. Soon a task force will be formed and further business-to-business meetings will be held. The possibilities of export, technology transfer, and investment were also explored for the entrepreneurs in the programme. The conference was addressed by IIA Senior Vice President Neeraj Singhal, General Secretary Dinesh Goel, Treasurer Alok Aggarwal, etc.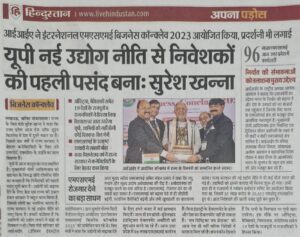 To become global from local: –
IIA officials said that MSMEs want to take their products outside the Indian market. Transformers, cables, agricultural machinery, pharma, etc. are in demand abroad in the state. MSMEs currently have 1.8 percent of business abroad, the target is to increase it to three to four percent in two to three years. There are about 63.4 million MSMEs in the country. In this, manufacturing contributes 6.11 percent to GDP and services contribute 24.63 percent to GDP.
Association officials Ashok Agarwal, Neeraj Singhal, Alok Gupta, and Dinesh Goel welcomed Finance and Parliamentary Affairs Minister Suresh Khanna at Hotel The Centrum.