Preparations for the G-20 Summit:-
Divisional Commissioner Dr. Roshan Jacob saw the preparations for the G-20 summit at Hotel The Centrum on Thursday. He says that the branding of G20 should be done properly at Hotel The Centrum, the venue of the event. At the same time, use warm light, which will give better decoration.
The Divisional Commissioner, who arrived in the afternoon, asked the officials to complete the decoration work at the earliest. The event is to start on February 13. In such a situation, the process of reaching the guests will start a day before. Municipal officials have also been asked to make arrangements for bio-toilets here apart from cleanliness. The special duty of the Municipal Corporation team will be imposed here. The divisional commissioner asked to get anti-larva, fogging done here as well.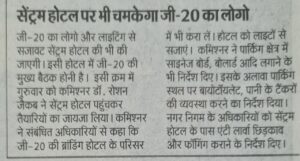 The G-20 venue will be decorated with warm light